Kinderkamerstylist is one of the premium sites in the Netherlands that only focuses on the creation of nurseries and children's rooms. Kinderkamerstylist.nl receives more than 40,000 visitors per month. In addition to the many visitors who are looking for baby and nursery inspiration, Kinderkamerstylist is frequently visited by (web)shop owners and media who are looking for stylish and beautiful products in the field of nursery and nursery décor. This makes Kinderkamerstylist an important platform for brands and labels that want to increase their brand awareness among this very specific audience in the Netherlands and Belgium. Do you have a (new) brand or label that would fit in the favourite brands and labels of Kinderkamerstylist? Let us know and maybe you will also be mentioned. From € 90 per year you can become a brand member.
Interested? Contact us via info@kinderkamerstylist.nl
Figures about Kinderkamerstylist:
Visitors: 42.000 per maand
Pinterest: 23.750
Facebook: 10.000
Twitter: 2.750
Nieuwsbrief: 1.750
Instagram: 3.300
Of course, there is also the opportunity to advertise.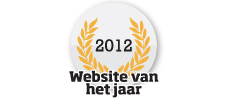 Kinderkamerstylist was nominated for Website of the year 2012.